Compiling PHP
Compiling PHP 7.1 on Ubuntu 14.04 x86_64
After going thru all of troubles with compiling PHP, which was actually a fun process that took around 4 days in total, i wanted to share the how-to guide, for myself to remember and for other to have a reference. This guide is not for beginners, so i will keep the story short by providing minimum guidance.
There are many different reasons why u would want to compile PHP from sources i.e.
Curious how it works
Your distribution doesnt support needed version, neither there 3rd party distro available
Getting the last bits of performance by compiling it your way
Beta testing against latest PHP features
Building your own/company's distribution, because everyone has their special requirements
Learning new stuff altogether
The goal
Our goal is to have our own stable redistributable package (deb) of custom PHP build, the steps would be
Read docs
The is alot of googling involved in the process, and to make life easier i references all the info at the end of article.
Meet dependencies
Grab a Ubuntu 64 distro, and lets begin
This installs my set of required packages for building [1].
If u need more, for example you need webp support for GD extension for imagewebp function then according to GD documentation you will need to install
As of PHP 7.0.0 --with-webp-dir=DIR has to be added
apt-get install libwebp-dev
--with-webp-dir=/usr
And so on for other extensions not included in this guide. Second, we will use gcc 4.8 according to this gcc roadman, its fresh enough.
Fetch PHP
Lets compile latest released version atm. 7.0.12
To make it more challenging and be real-world case, lets compile it with some extensions
with one static extension redis
with one shared extension via phpize amqp
and our amqp extension has another dependency rabbitmq-c or librabbitmq-dev
Compile PHP
Here we need to make alot of decisions, here is the end-result
We are building
for intel 64bit cpu with -march=corei7 [19] gcc flag
for (debian amd64) or (gnu x86_64) which are the same (see cat /usr/share/dpkg/cputable)
everything is installed under /usr/local/php7
we generate code for a 64-bit environment only [19]
we enable some optimizations like -mfpmath=sse -minline-all-stringops (-mfpmath=sse is default for x86-64 compiler [19])
-fstack-protector --param=ssp-buffer-size=4 is hardening option [30] for GCC<4.9, that emit extra code to check for buffer overflows
-fno-strict-aliasing is performance option passed through to the link stage (34) (35), disables -O2 and -O3 -fstrict-aliasing (36)
-std=gnu99 enables C99 standard (23) (25), i.e. C code already contains long long int data types; also C99 brings inline functions and optimizations
-fPIC -fPIE is similar to -fpic -fpie (37) (38) Generate position-independent code (PIC) & executable
-fsigned-char Let the type char be signed, like signed char. (22)
-mpc64 rounds the significands of results of floating-point operations to 53 bits (double precision) vs 64bits (default)
We also define CMAKE_CFLAGS flags for later on.
Now as we have PHP sources, lets deal our extension dependency librabbitmq. First we need to check if we dont have it installed pkg-config librabbitmq --libs. Because (26) GCC first searches for libraries in /usr/local/lib, then in /usr/lib. Following that, it searches for libraries in the directories specified by the -L parameter, in the order specified on the command line. If we do have librabbitmq library installed, GCC will link agains it ignoring our library.
This will install our librabbitmq under our PHP root for linking later on.
Few notes on configure flags
readline is required for correct cli work
xml is required for utf8_decode & utf8_encode
most of the libraries are compiled-in, while only few are built as shared (i.e. --with-gd=shared)
What extensions you wish to build as shared is up to you, here is a mine sizes reference table
In the end we get our php installed under PHP_INSTALL_ROOT.
Compile/phpize extension
Now lets build amqp extension, we already built librabbitmq-dev - An AMQP client library written in C - Dev Files
This should build amqp.so that is linked agains our librabbitmq
Generate INI files
We are still missing the default .ini files, lets fix that, and make sure all extensions have linked correctly
Build deb package
To share our package, lets create a simplest deb package (27) (28)
Benchmarking
Compare 7.0.10-2+deb.sury.org~trusty+1 vs our compiled 7.0.12 under ±5K RPM with NewRelic
Linux 3.13.0-74-generic x86_64
New Relic agent 2.2.0.125
Intel(R) Xeon(R) CPU E5-2680 v2 @ 2.80GHz 4 cores 7.3 GB RAM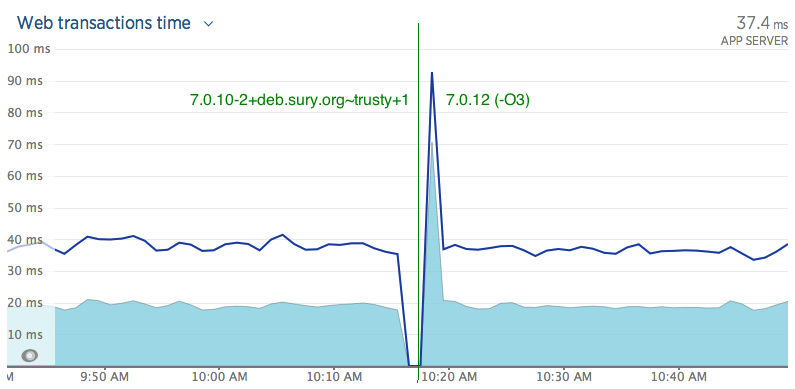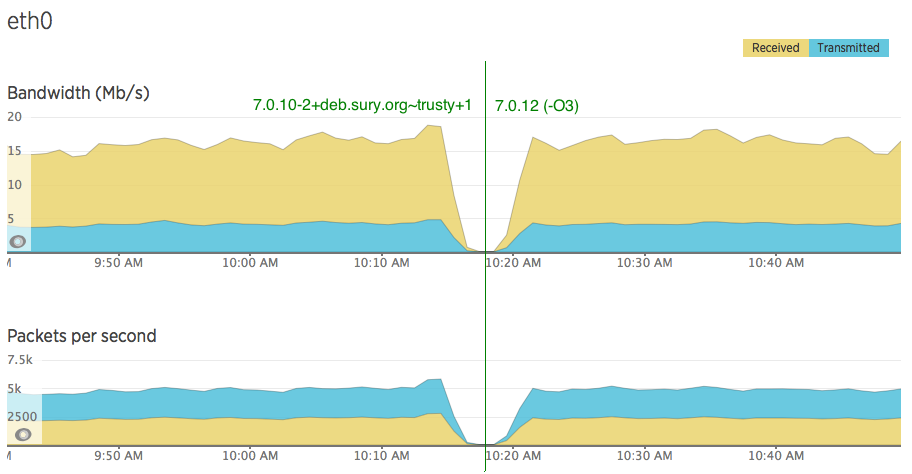 Compiling PHP 7.1.11 on Debian 9 x86_64
To be able to compile for debian 9 stretch minor changes need to be made
Update locale on clean image
Dependency changes:
libxslt-dev replaced with libxslt1-dev
libmysqlclient-dev replaced with default-libmysqlclient-dev
libpng12-dev replaced with libpng-dev
libedit-dev depencency added
libt1-dev removed
Build tools required, need to be installed manually
GCC 6 is the default one in debian 9, no need to install it